[ad_1]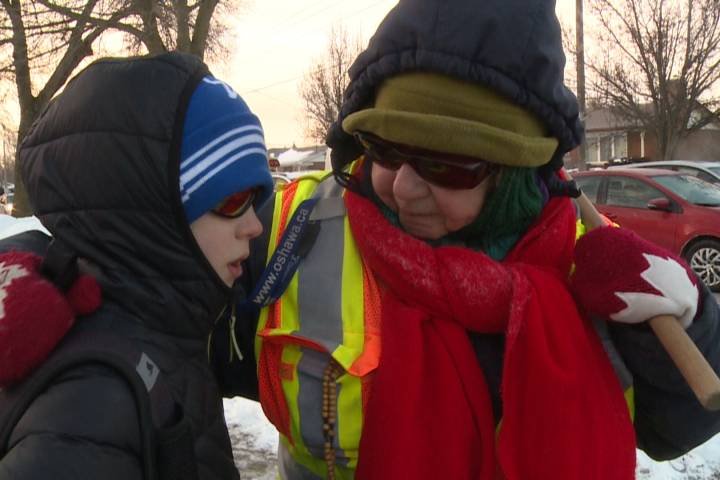 They are the unsung heroes in the community that don't always get the headlines.
On Friday, students past and present who crossed Olive Avenue and Grandview Street in Oshawa said thank you.
Rose McIntosh has been a crossing guard at the intersection for three decades and Friday was her last day on the job.
For the past 33-and-a-half years, it's been her post.
Every morning at 7:30 a.m., she's there, no matter if it's raining, snowing or cold.
She's back for lunch hour and then again at the end of the school day, making sure kids make it to school and then back home safely.
"It will be a hard day," said McIntosh, the Oshawa crossing guard.

READ MORE:
Durham student calling on region's public schools to scrap 'toxic' dress codes

Friday was an emotional day for McIntosh as her career came to a close.
The parents and children through the years have become an extended family of hers, all sides finding it hard to say goodbye.
"We're happy we've had her for so long. She crossed me when I was a kid too. It's going to be hard not having her on our corner anymore," said Michelle Scott.
"Hearing how the kids think about me and what they feel is, it makes me feel good and happy. And as some of the others said to me, 'You don't know the impact that you have had on our lives,'" said McIntosh.
The now 75-year-old took this job to be closer to her three children.
"I wanted to work but I didn't want to leave my children and I'm just four doors down," said McIntosh. "This is a good job for mothers to do if you don't want to leave your kids."
McIntosh is closing the book on this chapter, a job she's loved for over three decades.
"I see her crossing kids every day and I always wondered when this day would come because she's so committed to her job," said Jill Schoon, who lives in the community.
"I'm really going to miss them. They are truly a part of my life and it's really hard but as I explained to them that it's time for me to go, from the corner, but not from them," said McIntosh.

READ MORE:
Human trafficking awareness program launches in Durham

While she won't forget the kids, she handed out a message to them to remember her by, which reads:
Please love me and let me go
But keep me close, I will never
be too far for you to reach,
You are buried very deep within my Heart.
If you ever need me!!!
Just close your eyes; Hold your
Heart, think of me. I WILL BE
THERE FOR YOU FOREVER.
LOVING YOU ALWAYS.
I AM YOUR LOVING FRIEND
YOUR CROSSING GUARD.
McIntosh understands it's going to take a while to adjust from coming out to her spot every day but hopes she can find that same happiness in the next part of her life.
© 2019 Global News, a division of Corus Entertainment Inc.
window.fbAsyncInit = function() { var currentCommentID = 0; FB.Event.subscribe('comment.create', function(response) { if ( currentCommentID !== response.commentID ) { currentCommentID = response.commentID; if ( typeof( OmnitureHelper ) !== 'undefined' ) { OmnitureHelper.trackLink( true, 'o', 'facebook comment', { 'fb.comment': OmnitureHelper.getContextData('content.pagename') } ); } } }); };
(function(d, s, id) { var js, fjs = d.getElementsByTagName(s)[0]; if (d.getElementById(id)) return; js = d.createElement(s); js.id = id; js.src = "http://connect.facebook.net/en_US/sdk.js#xfbml=1&appId=318812448281278&version=v2.9"; js.async = true; fjs.parentNode.insertBefore(js, fjs); }(document, 'script', 'facebook-jssdk'));

[ad_2]

Source link