[ad_1]

The town of Bruderheim is getting a big economic boost from a new 40,000-square-foot hemp processing facility being built.
As soon as the snow melts, the vacant field at the start of town will be transformed into a construction site.
"We are building a decortication facility here in Bruderheim so farmers will be growing hemp for fibre. We will be processing it and making it into products for consumers," explained Canadian Rockies Hemp CEO Aaron Barr.
He says hemp has a lot of potential uses when the plant's fibers are separated from its woody core.
"Construction materials, insulation products, door panels and textiles all can be made from industrial hemp."
These plants have a much lower THC content than medical marijuana.
READ MORE: Cannabis legalization brings changes to hemp industry
The new facility will handle between 40,000 and 50,000 acres of hemp production each year when it's fully up and running. Barr hopes it will be fully operational by October.
The company picked Bruderheim as its ideal location to set up shop.
"Having close proximity to farmers was one of the main keys — as you can see here, we're on rail. So CP rail access is a key part of our development," Barr said.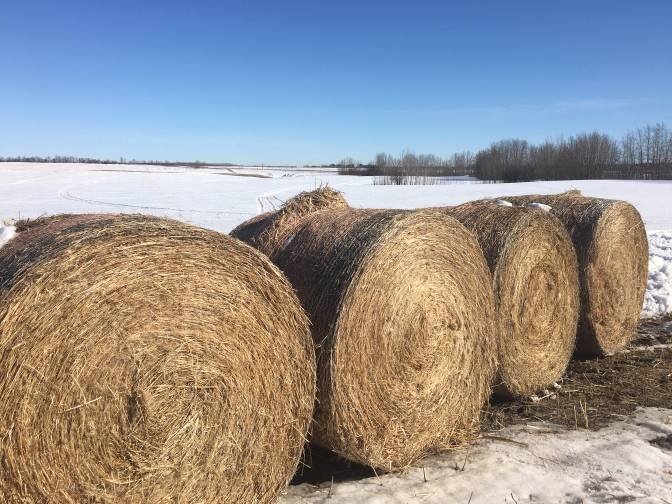 For years, the land Canadian Rockies has purchased sat for sale. Now, word of the development is reaching residents.
"The folks in Bruderheim are excited. There's a business coming to town that will be sustainable for the long term, that will employ people and pay taxes," explained Bruderheim Mayor Karl Hauch. "It's great."
Bruderheim is about 45 minutes north-east of Edmonton and has a growing population of 1,400 people.
READ MORE: 'It won't even get a fly high': Sask. farmer on people comparing hemp to marijuana
The hemp-growing business is also attractive to area farmers, like Arlan Maschmeyer.
"We got fairly excited because it's something new. Generally we're a wheat, canola and barley producer and all of them are just barely breaking even," he explained.
Maschmeyer's going to see how hemp grows in his fields this summer.
"One of the biggest benefits is it's a late-seeded crop and an early-to-harvest crop."
There are other advantages as well, according to Barr.
"Hemp can allow farmers to get off their crops before that wet fall might come. With the issues that club root has been causing in our area, with the canola prices decreasing with the China trades, farmers have been looking to add another rotational crop and they're been quite receptive about growing hemp."
READ MORE: Alberta's other oil: Protecting a golden industry worth billions
This year, Barr expects to have 10 full-time employees processing about 10,000 acres of hemp in the company's inaugural season.
When the facility is at full capacity, he hopes those numbers will grow, eventually having a staff of between 40 and 50 people from the Bruderheim area.
Now that farmers are committing to seed hemp, construction needs to get started right away so the plant is ready for harvest in the fall.
Hauch said he "always get nervous until you see something actually built, but this is very encouraging.
"These are great folks that we're working with and they've made this bold step forward to purchase the land. It's looking very positive for our community."
WATCH BELOW (June 25, 2015): A multi-purpose wonder crop is continuing to grow in popularity. Over one hundred thousand acres of hemp are now licensed in Canada, with approximately a third of that coming from Alberta. Blake Lough has more on why southern Alberta, in particular, is cashing in on the crop.
© 2019 Global News, a division of Corus Entertainment Inc.
window.fbAsyncInit = function() { var currentCommentID = 0; FB.Event.subscribe('comment.create', function(response) { if ( currentCommentID !== response.commentID ) { currentCommentID = response.commentID; if ( typeof( OmnitureHelper ) !== 'undefined' ) { OmnitureHelper.trackLink( true, 'o', 'facebook comment', { 'fb.comment': OmnitureHelper.getContextData('content.pagename') } ); } } }); };
(function(d, s, id) { var js, fjs = d.getElementsByTagName(s)[0]; if (d.getElementById(id)) return; js = d.createElement(s); js.id = id; js.src = "http://connect.facebook.net/en_US/sdk.js#xfbml=1&appId=318812448281278&version=v2.9"; js.async = true; fjs.parentNode.insertBefore(js, fjs); }(document, 'script', 'facebook-jssdk'));

[ad_2]

Source link